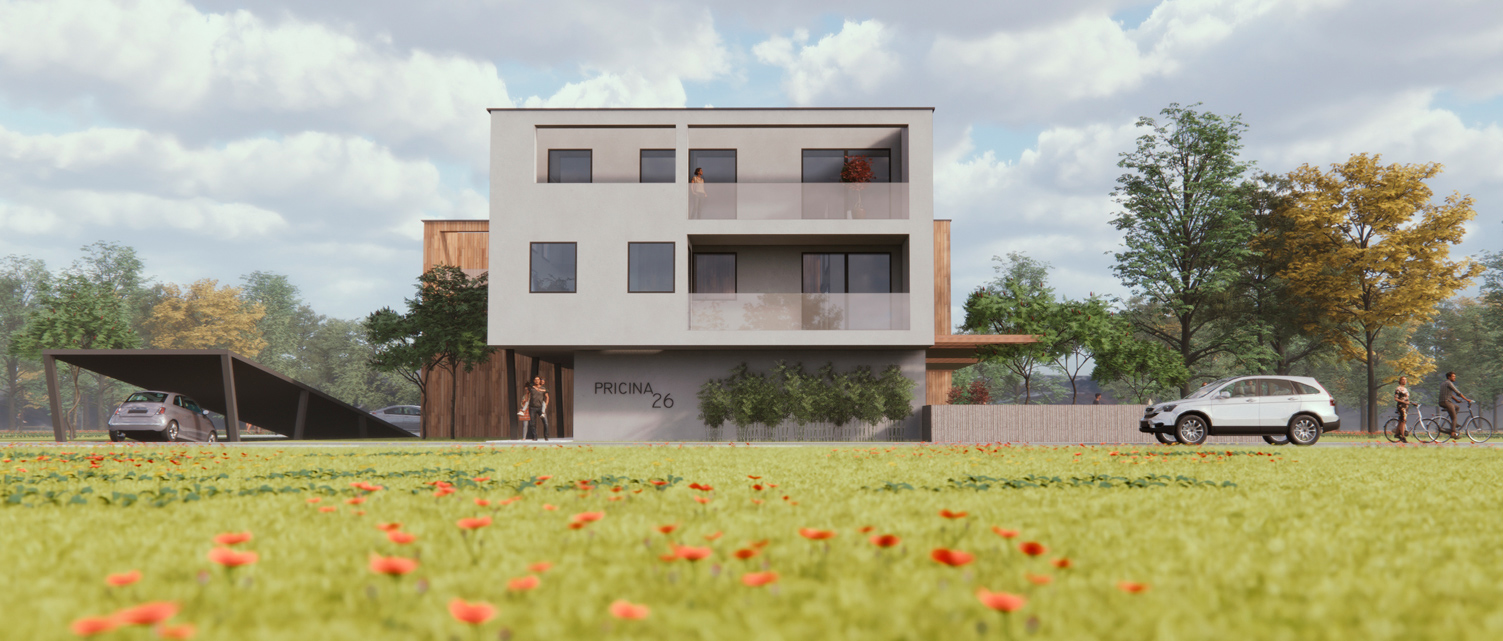 Samobor
Author: URBANE IDEJE
Year: 2020. (projekt)
Area: 3.400m2
Location: Samobor, Croatia (45.805920 N, 15.716177 E)

In the center of the picturesque Croatian town of Samobor, on a site right next to the small river Gradna, the conceptual design of the "Urbane ideje" architects won the first prize in an inviting architectural competition (held in July of 2020) for a new apartment building construction. The new apartment building is designed with one underground and three above-ground floors, ant the total of 17 residential units (NFA of units varying from 54 to 124 m2). Each apartment units is provided with a corresponding outdoor space – large private garden, spacious loggia or a roof terrace, two parking spaces (in common underground garage) and storage areas (also in the underground floor) and, together with use of contemporary building materials and technical solutions, is aiming to provide above-average standard of living for its future residents. The architects had to deal with the several basic design inputs which shaped the building – elongated building plot; the imperative to achieve the SW (towards the historical town center) and SE (pedestrian promenade along the bank of the Gradna river) orientation of all of the residential units, and the desire to break-down the volume of the building (both in the terms of layout and height) into several smaller element (appropriate to the urban scale of the close surroundings).

The end result is a complex spatial composition of residential cubes and a central staircase element, providing optimal orientations of all 17 residential units and forming a series of interesting outdoor spaces - micro-ambiences - private residential gardens, main street (entrance) garden and intimate common semi-atrium space. The visual differentiation of separate volumes is additionally emphasized by the façade materials - combining a classic plastered (ETICS) façade system and ventilated wooden cladding facade.

The specific experience of the building can also be read within the internal communications - a spacious staircase and wide, fully glazed corridors / galleries from which the apartments are entered are in contrast to the narrow and relatively dark corridors and staircases of a good part of new residential buildings build in Croatia since the 1990s.

The project documentation will be completed by the end of this year, while the first residents are expected to move into their new homes during 2022.